Covid-19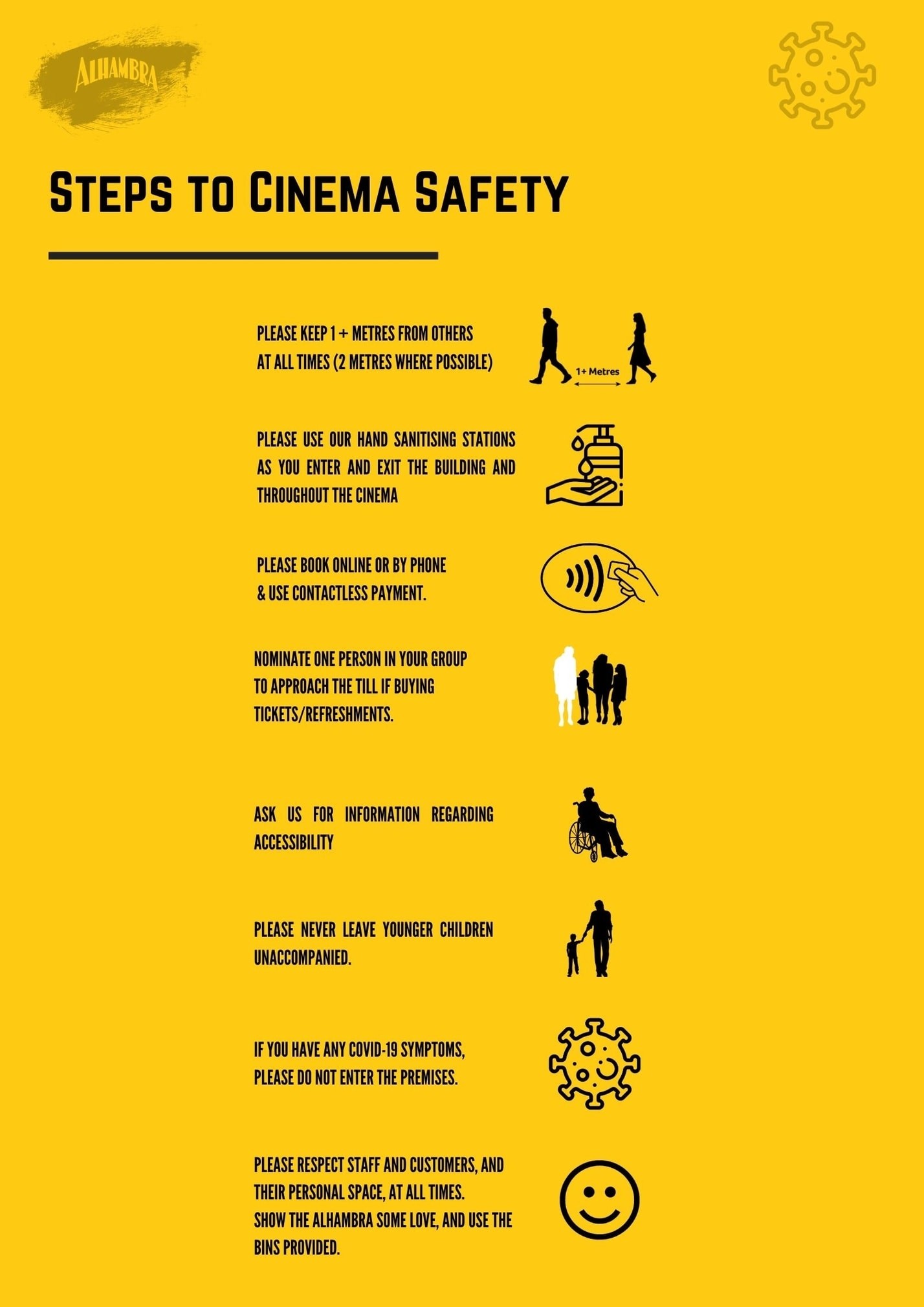 A brief overview of the Lonsdale Alhambra's measures and guidelines in response to Covid-19 as of 01/10/2020.
Masks
Customers are required to wear masks when they attend our cinema, however this is not compulsory at for those who are medically exempt or when eating/drinking. This means customers are required to wear their masks throughout their entire visit. Please remember to wash your hands when handling your face mask (particularly after eating any confectionary). This is subject to change pending an update to the current government guidelines.
For those who wish to wear a mask but have forgotten theirs, we will be selling disposable masks at cost for 20p a mask.
Our staff will be wearing gloves and face shields at all times.
Hand Sanitiser
There will be dedicated hand sanitiser dispensers located throughout our building. There will be hand sanitiser dispensers at the entrance and exit of every screen with additional dispensers secured in key areas such as the foyer and main entrance. All of our hand sanitiser stock is well above the required alcohol content of 60%.
Social Distancing
Throughout our building, customers and staff will be required to keep at a safe 2m distance which will be enforced by said staff. On the rare occasion where keeping a 2m distance is not possible, a 1m+ policy will be enforced.
Seating wise, all bookings will be socially distant with 1-2m (roughly 2 seats- depending on the screen and seat type) between each group. Only those who are from the same household or bubble will be able to sit together. Naturally this means that our capacity will be limited so please ensure you book your seats in advance.
Reservations and Pre-Bookings
Unlike our normal reservation procedure, we are no longer able to accept unpaid reservations for films. All pre-bookings must be paid in full upon contacting our Box Office team.
We strongly recommend that due to our reduced capacity- to allow adequate and safe social distancing- that all customers pre-book their tickets ahead of time.
We will require some key contact information that will be used for booking purposes and if consent is provided we will enter these details onto a separate record for NHS track and trace purposes.

If you have any questions about how your information will be used, please talk to any member of our team by calling 01768 862 400 or by emailing outreach.lonsdale@gmail.com
Please Note: The management may be required under certain circumstances to move your seats after you have pre-paid for them. You will receive a confirmation email of any changes.
Ticket Collection
Unlike our pre-lockdown procedure, most of our tickets will be digital. Please have your confirmation email ready for our Door Attendant who will scan your ticket or search for your Transaction ID.
Customers will then be invited to purchase confectionary items and drinks in the foyer before being seated by one of our Ushers. The Usher on duty may require your QR code to scan your ticket once you enter your screen.
Confectionary
We are still able to sell popcorn, sweets and drinks! Our staff will be wearing gloves, face shields and will wash their hands and work surfaces after every transaction.

Please note: alcohol sales have been temporarily suspended due to a recent change in government policy.
Cashless
We will be transitioning into a cashless system as we re-open our doors. We now accept contactless payments up to the value of £45 (no limit on Apple Pay).
New Entrance/Exits
In order to ensure social distancing is maintained throughout our building, a new one-way system will be implemented. The main entrances remain the same as pre-lockdown, however our fire exits will become the new regular exits.
For those with additional mobility requirements, the lift and platform remain in operation and will serve as both the entrance/exit for customers in Screens 1 & 2 (both upstairs). If you require the use of our platform to access Screen 1, please notify our staff ahead of time so that we can make the appropriate arrangements for your visit. Screen 3 is located on the ground floor and remains accessible for all.
Refunds/Complaints
If you fall ill and need to cancel your pre-paid tickets, our team can remotely refund these tickets for you (minus any booking fees) so long as your film has not already started. If you fall ill mid-way through a film you are sat in, you can also receive a full refund.
For all refund requests, please fill out the contact form on this website's 'Refunds' page (see:Penrith Alhambra). We will attempt to contact you within 3 days of your contact form submission, however this may be delayed as we gradually re-open our screens to the public.
For any complaints, please email outreach.lonsdale@gmail.com so that we ensure the appropriate team member can contact you.
Please do not call us to request a refund, instead our team will attempt to contact you.
Symptomatic Customers
Any customers displaying symptoms may unfortunately be denied entry to our cinema. A full refund will be issued if this is the case (please see above for refunds).
If you fall ill mid-way through a film you are sitting in, we will also fully refund the cost of your tickets for you (minus any booking fee).
Films
As many cinemagoers know, this year's film release schedule has become a scattered and uncertain calendar. At the moment, our film schedule will be published on our website a few days before the new cinema week begins- usually on Mondays.
In the meantime, we will endeavour to pack our programme full of beloved classic films which we have dubbed our 'Rewind' programme as well as major blockbuster releases as and when they are released in the UK. Please be patient with us as our industry shakes off its figurative moth balls and gradually returns to a normal release schedule.